Mission:
To place education in the context of wholesome development that not only includes knowledge, but also moral and ethical values and a spiritual perspective that will give inspiration, self-confidence, social balance and overall strength.
Goals and Objectives :
At Vedanta Vidya Mandir, learning and teaching are based on the principles of Vedanta:
a) Understanding of self or relationship with God: develop a positive and realistic self-concept
b) Incorporating the message of Vedanta into their daily lives
c) Engaging in activities and experiences through "Work as worship"
d) Making decisions based on Vedantic values
e) Learning to cope with change and uncertainty
f) Appreciate one's own cultural identity and the heritage of others
g) Value and respect individual and cultural similarities and differences

If you would require more information please email us at: vvmtoronto@gmail.com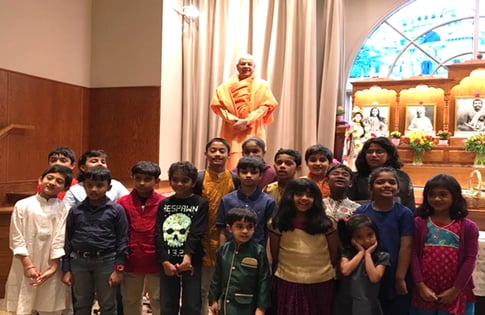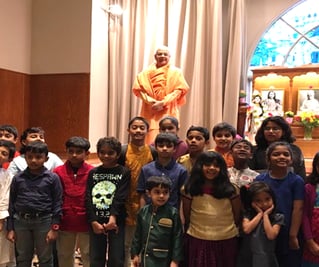 The Vedanta Vidya Mandir, one of the initiatives started by Revered Swami Pramathananda, is intended to provide moral and spiritual education for the young people in our Society. The school was started in June 2003, with classes being held once a month. Later, on the request of students and parents classes were increased to twice per month. The school is run by volunteers under the guidance of Revered Swami Kripamayananda. Classes are usually conducted on Sunday afternoons from 1:30 PM to 4:00 PM EST.
Children as young as 4 years may be accepted into the programme. Students are divided into 4 main groups: Juniors, Intermediates, Seniors and High School. The day starts by offering of fruits, prayers, meditation, chanting and a talk by the Swami. They then proceed to their classes where they learn Music, Sanskrit, Classical Stories for juniors, Upanishadic Stories for Intermediates, Bhagavad Gita for seniors. Subject of study can vary from year to year.
ANNOUNCEMENT: Season for 2023-2024

PLEASE CLICK HERE FOR ONLINE REGISTRATION
The Vedanta Vidya Mandir will commence its 20th year on Sunday, September 10, 2023 at 1.30 PM. This year Vidya Mandir classes will be offered online using Webex. Registration for this academic year is from Aug 20, 2023 to Sep 10, 2023. Login details will be shared with registered families. Classes are conducted on Sundays from 1:30 PM to 4:00 PM for all grades (KG to High School). Families can register and pay online through the Vedanta society's website. Please pay the fee through "Donate" option and send us the receipt (The receipt is required for accounting purposes)